13/03/21 Vintage Poster Maps
You had a great trip in Asia (on your bicycle, motorbike, by foot, by bus, any kind of trip :-) ...) I can draw your...

Publiée par Vintage Poster sur Vendredi 12 mars 2021
1/02/21 Vintage Poster Sri Lanka - Colombo

Comombo 2nd Cross Street (Sri Lanka).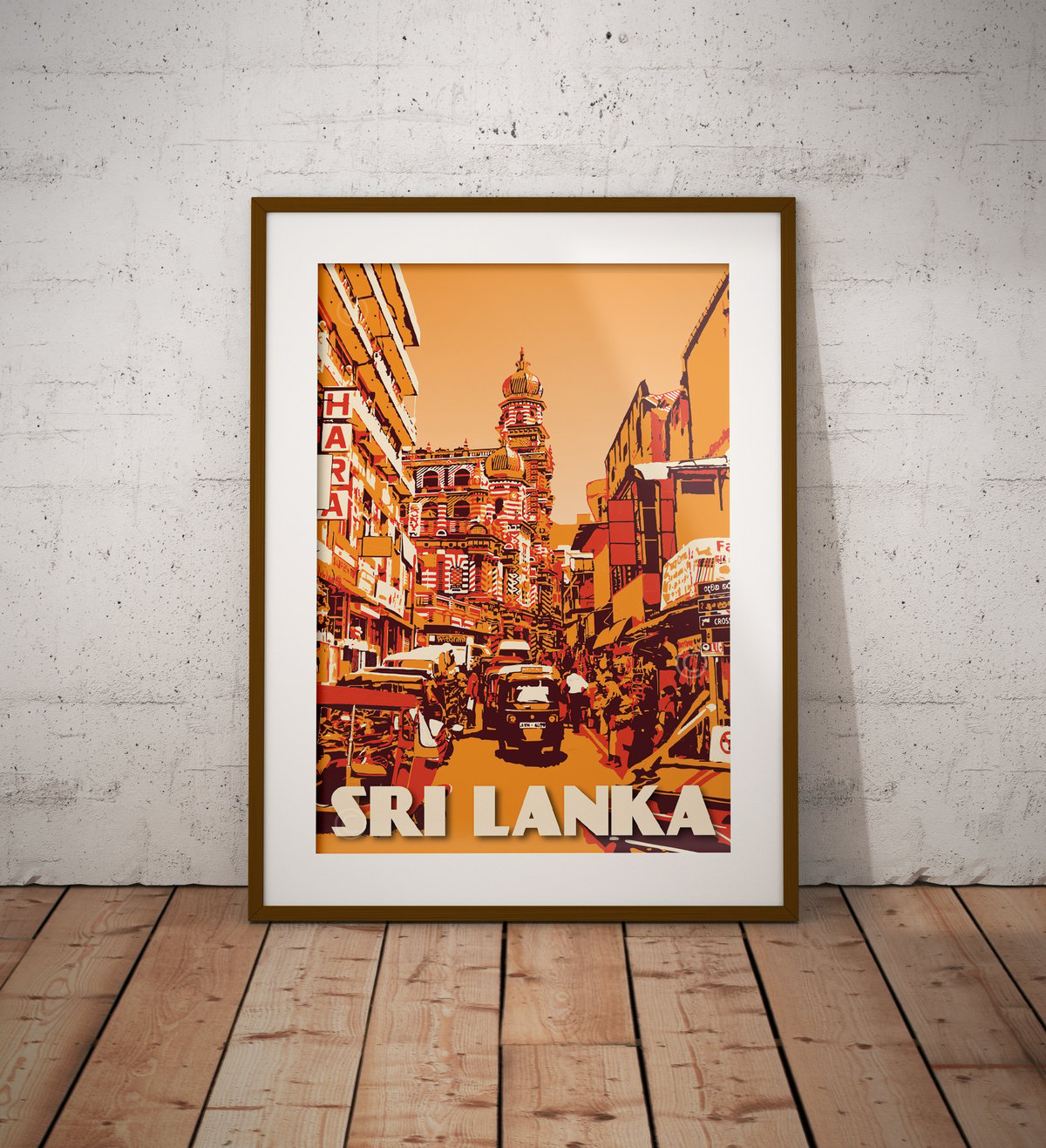 Vintage Poster Sri Lanka - Colombo - Fine Art Print
1/02/21 Vintage Poster Sri Lanka - Nine Arch Bridge

The Nine Arch Bridge also called the Bridge in the Sky, is a viaduct bridge in Sri Lanka.
Vintage Poster Sri Lanka - Nine Arch Bridge - Blue - Fine Art Print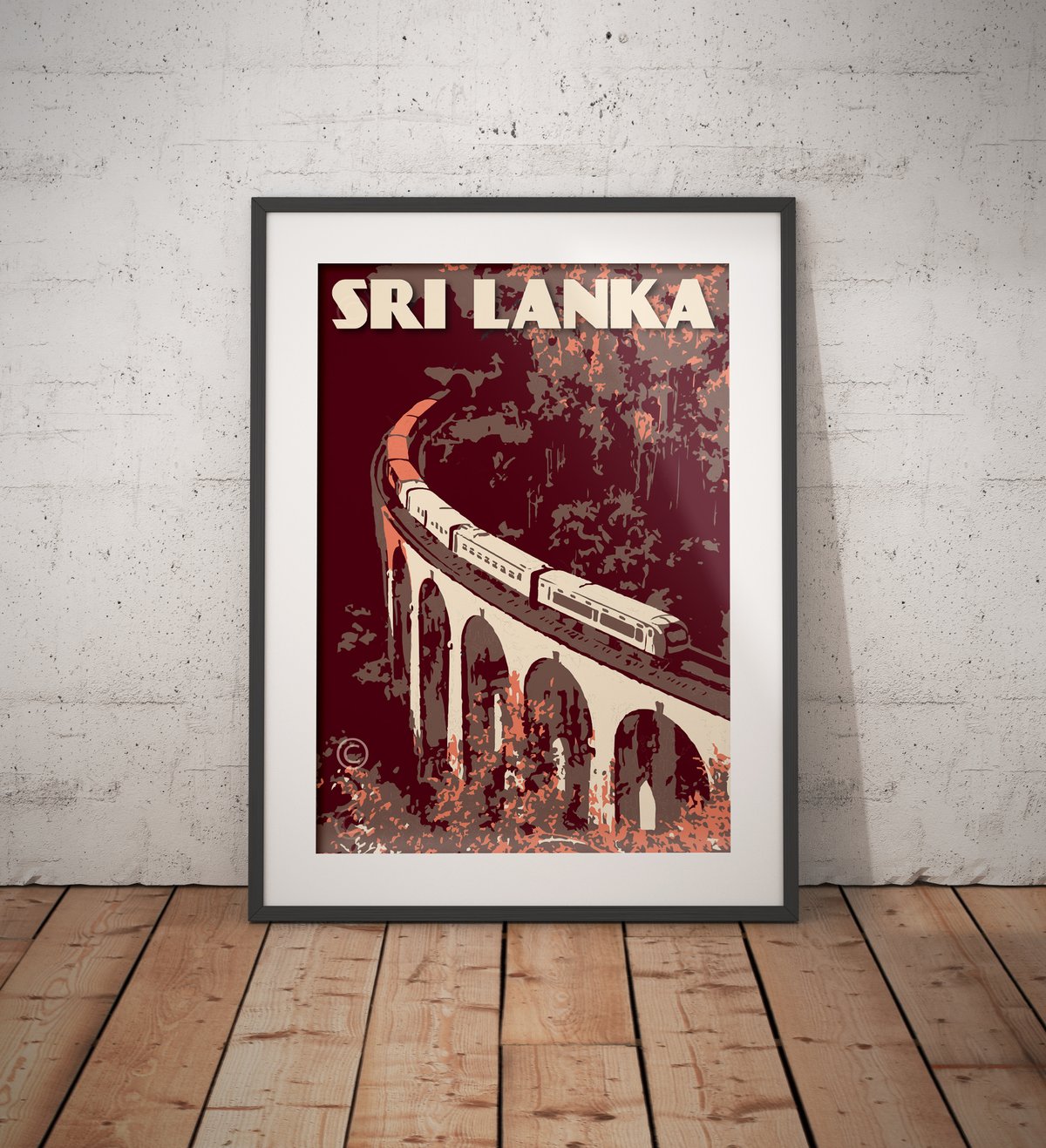 Vintage Poster Sri Lanka - Nine Arch Bridge - Coral - Fine Art Print
29/01/21 Vintage Poster Sri Lanka - Surfer on the Beach

Sri Lanka is one of the best destinations for beginner and intermediate surfers, whether first-timers or those looking to get to grips with heavier Indian Ocean swells and reefs for the first time. The sand-bottomed beachies at Weligama and Hikkaduwa are as good as it gets for beginners learning to surf, the deep reef at Midigama's 'Lazy Left' is ideal for intermediates looking to step up to heavier breaks, while advanced surfers can find hollower waves and occasional barrels at the punchier reef breaks like Rams Right and Mirissa.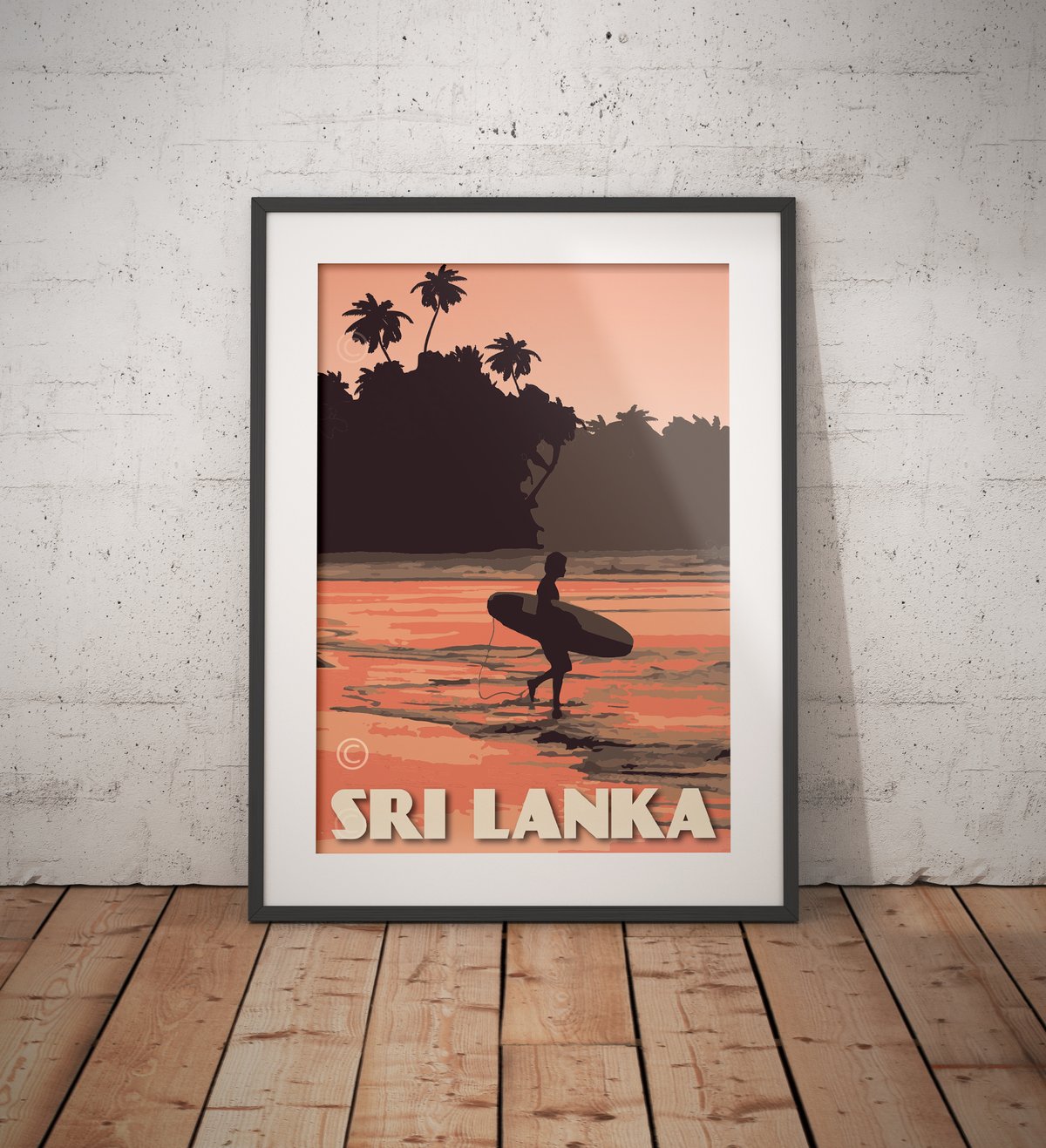 Vintage Poster Sri Lanka - Surfer on the Beach - Coral - Fine Art Print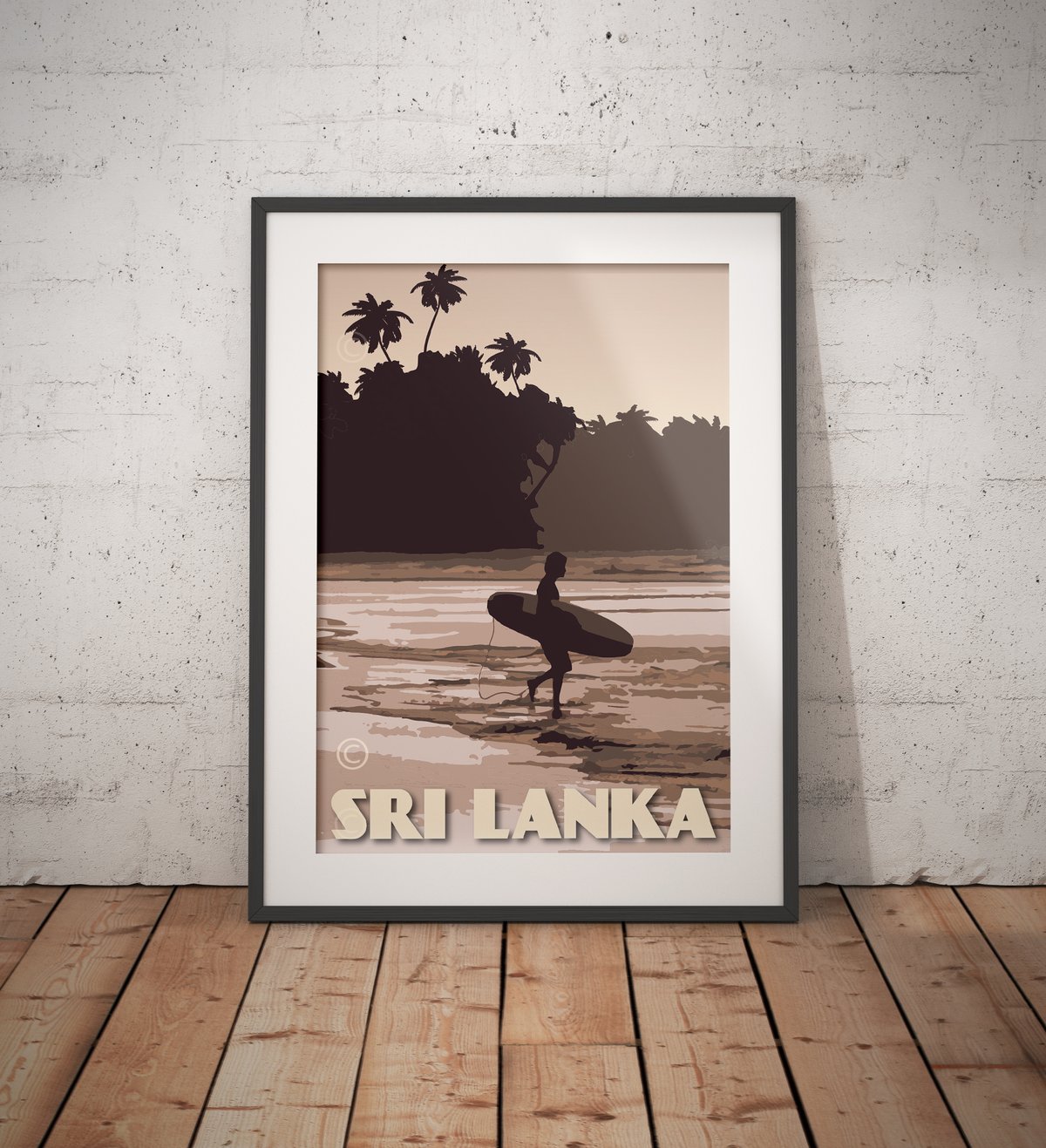 Vintage Poster Sri Lanka - Surfer on the Beach - Purple - Fine Art Print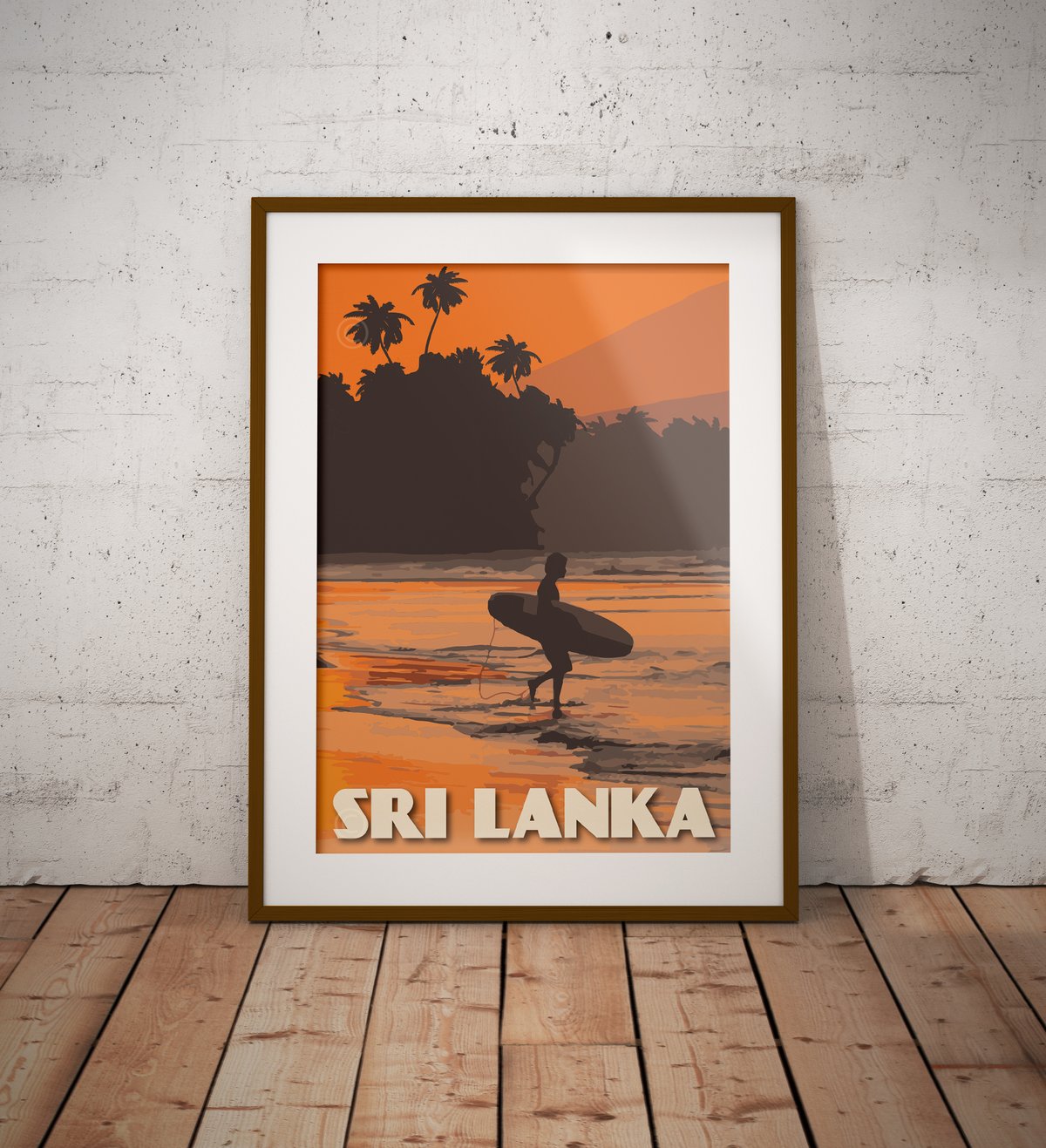 Vintage Poster Sri Lanka - Surfer on the Beach - Orange - Fine Art Print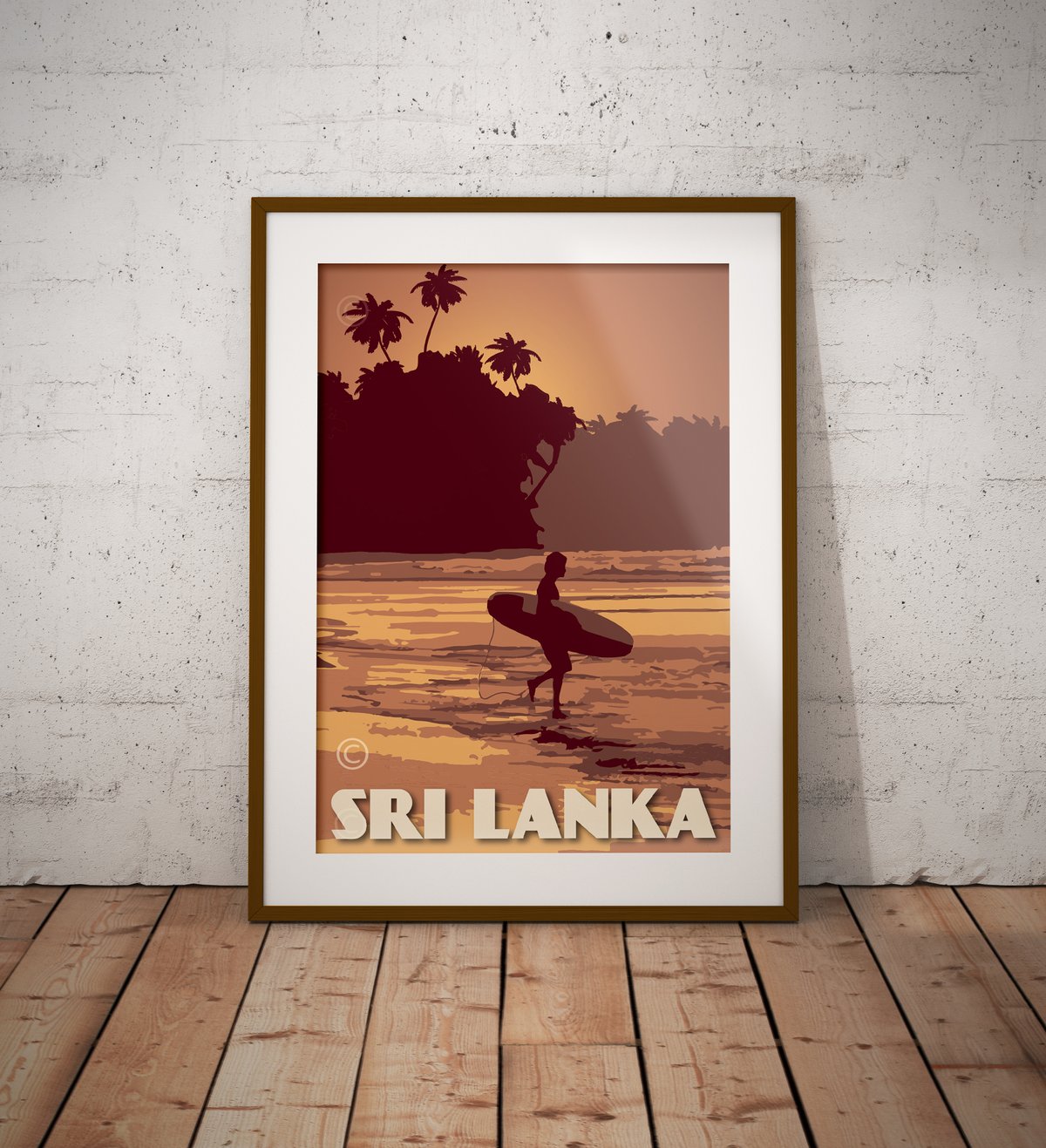 Vintage Poster Sri Lanka - Surfer on the Beach - Yellow - Fine Art Print

06/01/2021 - Hong Kong Tram, Malaysian Trishaw and Thai Tuk Tuk in tropical green color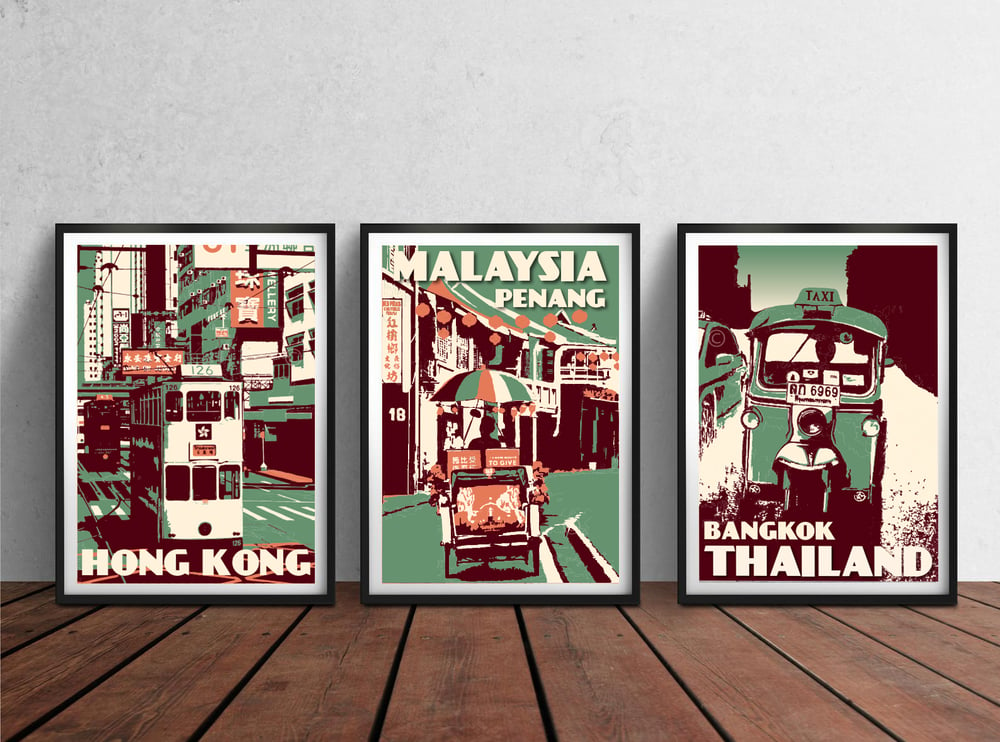 Posters in tropical green color

08/12/2020 - Philippines - Palawan Island

Palawan is the largest island in the Palawan Province, in the western Philippines. The capital, Puerto Princesa, is known for the biodiverse Puerto Princesa Subterranean River National Park, where boats run along an underground river through vast caves. Off the east coast, Honda Bay's islands are dotted with resorts. Farther out in the Sulu Sea, Tubbataha Reefs Natural Park has reefs teeming with marine life.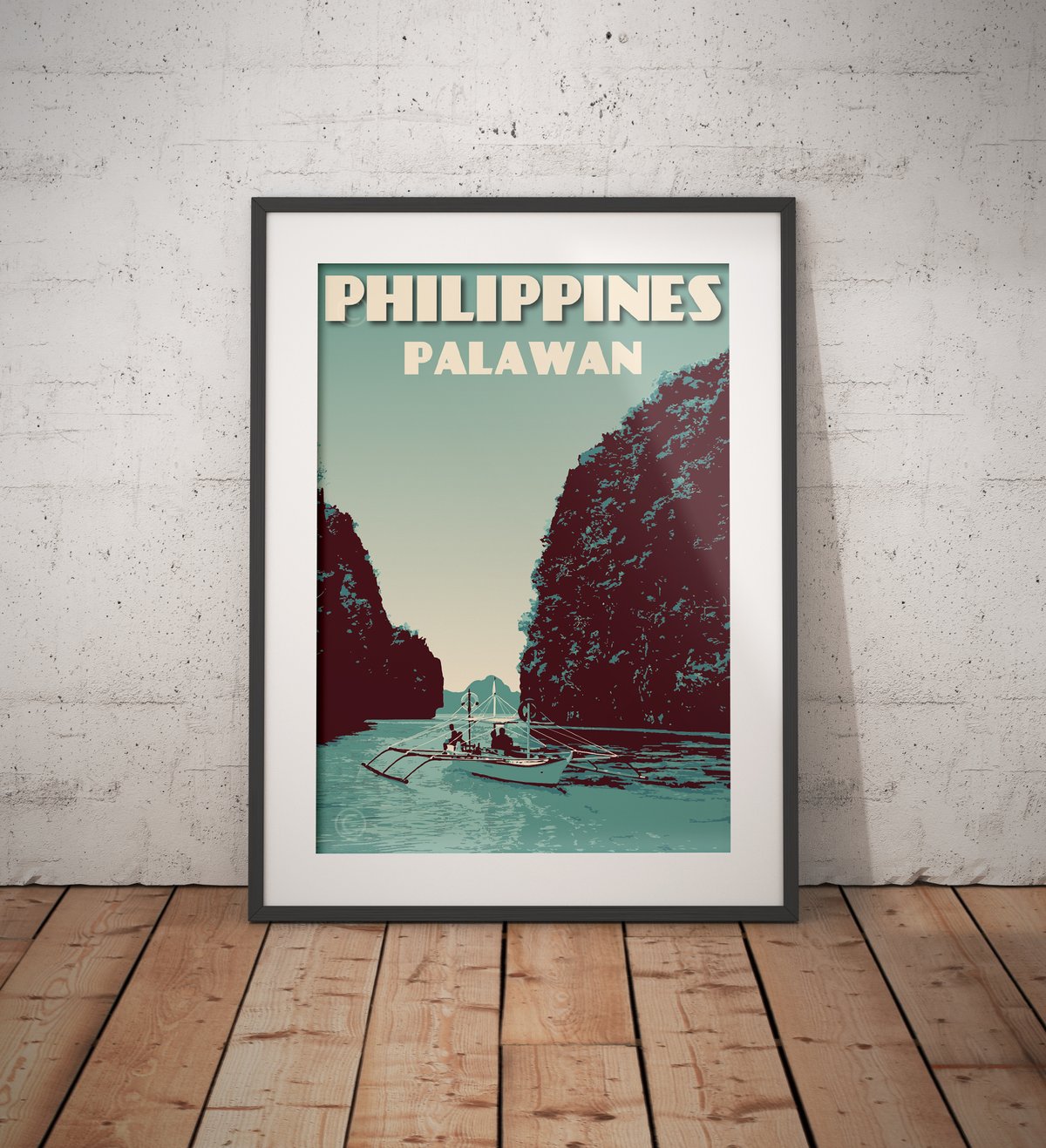 Vintage poster Philippines - Palawan Island

08/12/2020 - Philippines - Vigan Calle Crisologo
Calle Crisologo is a street of old Spanish structures, mostly houses of wealthy families and Filipino-Chinese traders. This is where you'll see the famous cobblestone streets that represent Vigan's image.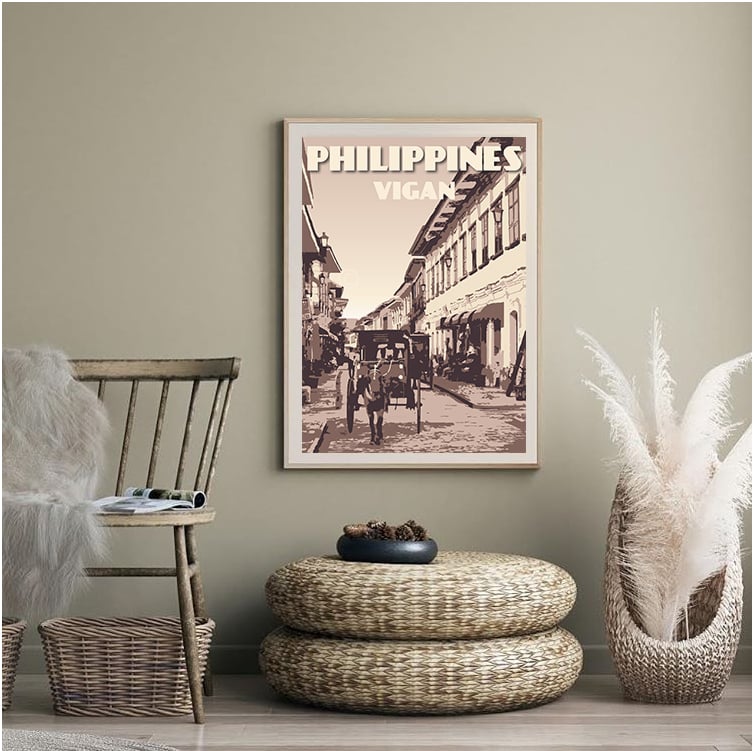 09/06/2020 - Cambodia custom order art prints - Blue interior design

07/06/2020 - Evolution of blue color - Interior color trends for 2020

28/05/2020 - Custom order canvas print from my favorite Kundalini yoga teacher :-)

04/05/2020 - Get pops of red and orange color in your home with this Singapore vintage poster
Singapore Vintage Poster Trishaw

02/05/2020 - Singapour bedroom decoration ideas
12/04/2020 - Free Lao New Year Greeting cards
Download Lao New Year Greeting Card

Download Sabaidee Pi Mai - Stay Safe Greeting Card

Download Sokdee Pi Mai Greeting card

04/04/2020 - Donation for Laos during coronavirus crisis
I am releasing this limited edition print (only 450 pieces) named Resilience as a fundraiser for small projects of public utility in Laos. 100% of the profits will be split between
- XonPhao Disabled People Working Group- who keep making masks, and developing useful skills
- Vientiane Rescue 1623, ambulance and first aid, firefighters and today as disinfection team.

03/03/2020 - Project Lockdown - Vientiane 2020
Project Lockdown, Vientiane 2020 from vanhai on Vimeo.
28/03/2020 - Long Neck woman Burma

Can't decide which background color ;-) Green chartreuse, Light orange, Pebble Beach, Orange... I guess I will print all colors !
27/03/2020 - The Thakhek Loop (Lao PDR)
Thakhek is the starting point of the Thakhek Loop" – a 475-kilometre, four-day motorbike ride across the Central Laotian countryside.
More info on the Thakhek Loop here

26/02/2020 - "Travel journal for my kids..."
When travelling we bring back memories and souvenirs.
I decided to start creating a different travel journal for my kids.
So, from each South East Asia country we are visiting, a poster goes on their wall. It looks great and reminds us how beautiful the world is!
13/02/2020 - Find us at INNWA Books and Cafe

Vintage Poster is now available at INNWA Books & Cafe (Myanmar Plaza 2F) in Yangon!

05/01/2020 - Vintage poster TM features in Champa Meuang Lao Magazine

Champa Meuang Lao Magazine is the official inflight magazine of Lao Airlines, the country's national carrier.
14/12/2019 - Chula Pop up store in Yangon (Myanmar) #chulafashion
Chula is a vision created by Diego and Laura in Hanoi since 2004. The world of Chula is always filled with wonderful inspirations from every aspects in life transformed into colorful garments, delicate use of handmade arts and artistic forms. Each Chula design is an individual and a piece of artwork that carefully constructed with love under graphic visuals and meticulous craftsmanship. Chula is a mixture between Vietnamese traditions and Western visions that carefully thought out by Diego and Laura to bring two cultures into a harmonious symphony.
14/10/2019 - Hanoi #Longbienbridge

Long Biên Bridge is a historic cantilever bridge across the Red river that connects two districts, Hoan Kiem and Long Bien of the city of Hanoi, Vietnam. It was originally called Paul Doumer Bridge.
13/06/2019 - Vintage poster Borneo

12/06/2019 - Kuala Lumpur Fridge Magnets
Don't forget soon is fathers's day!
What about a nice magnet from Kuala Lumpur...
#ilovemydad #fathersday #fathersdaygifts
29/04/2019 - Off for holidays! Let's go to Myanmar!

28/03/2019 - Cafe Eh Eh in Vang Vieng (Laos) #VangVienglaos

Are you a long-term traveler? Been on the road a few months and need to let the fam know you're still alive? Sure, you could give Mom a call... or you could send her one of our stylish vintage postcards. They also make a great souvenir of your travels through Laos, so come by and browse our selection of them.

Oh, and you should probably still call your mom. She'll love the card, but snail mail from Southeast Asia takes forever.
10/12/2018 - Vivanouk homestay in Savannakhet - Laos
This homestay has a large open room downstairs for guests to sit and enjoy the atmosphere and buy some postcards and souvenirs, whilst the three bedrooms are all upstairs. We particularly liked these beautiful posters, which you can buy from the attached website
Vivanouk Homestay in Savannakhet

04/06/2018- Vintage Poster TM features in Latitudes 9 magazine
16/05/2018 - Le Petit Journal parle de nous #Lepetitjournal
20/05/2018 - Having fun in Hong Kong @ the affordable art fair